Dead space

What A Long Strange Trip It's Been
Welcome to My DeadSpace
Here you will find pictures of The Grateful Dead and other related bands
as well as other links to Grateful Dead material. These pictures are free and you can use them as you like
please credit the photos where applicable.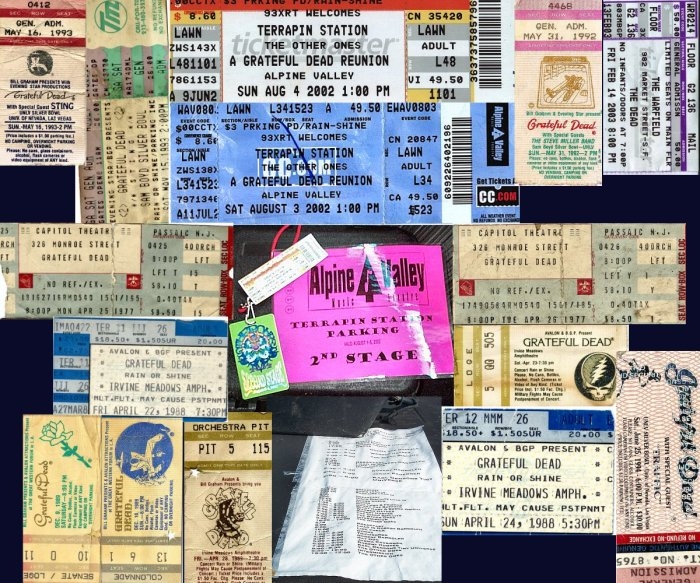 Click on a Stub to go to it's pictures
Hello Fans and Friends and heads alike : )). My name is Johnny. I am an Audio Engineer (soundman). I am The Owner of my Audio Company JRM Audio. I have worked with and met most all the members and friends of The Grateful Dead and friends in the past and continue to do so. I have been going to Grateful Dead Concerts since my 1st show 8-1-1974 at Roosevelt Stadium in Jersey City, NJ...wall of sound tour : ))
Since then I have moved out west to Cali and continue to attend The always changing new "The Dead" shows (remaining members of Grateful Dead and friends). I have taken many pictures of the band over the years and have them here for display. enjoy... and use them as u wish...please give credit when reproducing ...thanks..
Here I will post recent pix as well as more from my archives. Also I will post relevant happenings relating to upcoming shows that I produce and run sound for. For info regarding any of my Audio services please visit JRM Audio, I own some of the best gear around for small concerts, clubs and parties sound reinforcement.
---
Upcoming shows and related Newz
Currently I am working local southern California's premier Grateful Dead cover band Cubensis.
---
---
Index of Pictures
starting from most recent
2004
The Dead Wave That Flag Tour

Chula Vista CA 6-23-2004 new | Columbia Meadows 7-02-2004new | The Gorge 7-03-2004 w/Allman Bros
2003
2002
Grateful Dead 1980's
Grateful Dead 1970's
4-25-1977 | JGB 1977 | GD Assorted late 70s |
Other Kynd Links

---

Electric Blue Front Door | Tour Info | Electric Blue Pictures

| Electric Blue's-Mailing List | E-Mail
This page last updated Friday, October 15, 2010 11:51:24 PM -0700
Copyright © 1994-2010 JRM Audio Productions