The Dead
Phil Lesh, Bill Kreutzmann, Mickey Hart, Bob Weir, Jimmy Herring, Jeff Chimenti, and Warren Haynes
&
The Allman Brothers Band
Gregg Allman, Jaimoe, Butch Trucks, Warren Haynes, Marc Quinones, Oteil Burbridge, and Derek Trucks
Wave That Flag Tour
July 3r 2004 The Gorge George, Washington
This show was the last of the 1st leg of the Dead's summer tour. The Allman Bros. were special guests, Robert Hunter opened the show. The Gorge is a camping venue with beautiful scenery with the Columbia river in the background. Undoubtedly 1 of the best outdoor venues in the country. Some of these pictures are minimumly processed due to the sun setting behind the stage and the glare. The show was great, weather was great, crowd was great, everyone had a spectacular time. If you were there look for yourself in the crowd pictures : )) e mail me any comments johnny@electricblue.net
Enjoy : ))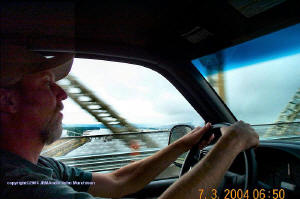 Me driving to the Gorge, WA from St. Helens, OR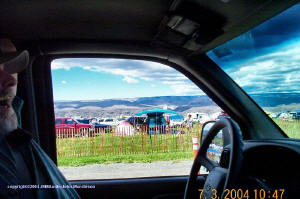 We're Here............pulling into The Gorge Camping Lot to pick a spot and setup camp.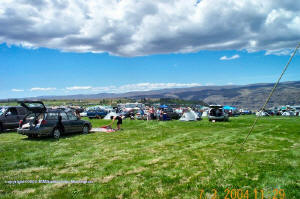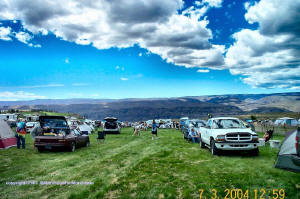 This is the camping lot...great vibe...great view...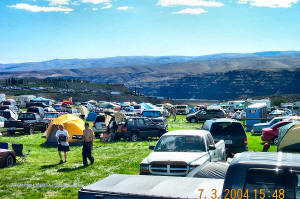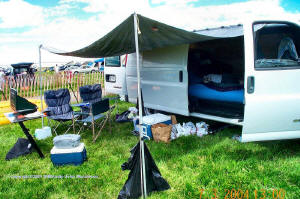 A view from the lot looking at the stage in the distance...... and our cozy campsite : ))
As you enter the Gorge, and walk down into the venue, this is the 1st view you see,
Simply Gorgeous : )))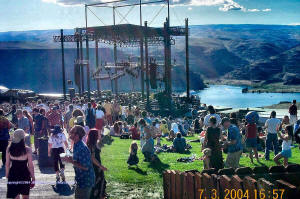 The Allman Bros were already on stage, as we walked down front to our seats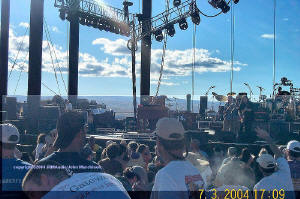 The Allman Bros were Rocking as we walked in. The sun was headed down right in back of them as you will see in the following pictures, some which I corrected to fix the glare.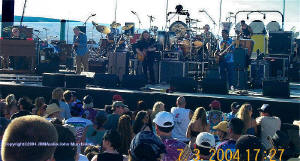 The Allman Bros. played a few classics but mostly covered songs from their new release "Hittin the Note"
Derek Trucks is awesome on guitar!!!! Warren is equally great, and adds the soulful vocals as well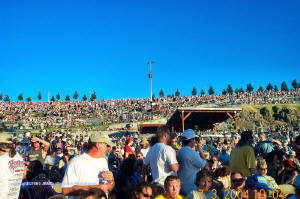 The crowd as The Allman Bros. played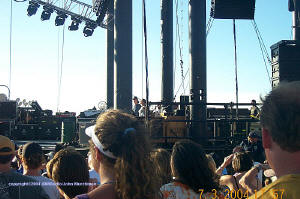 Phil Lesh and his wife, checking ABB from backstage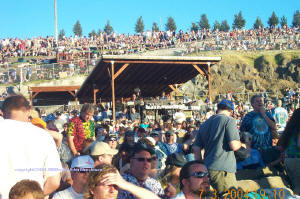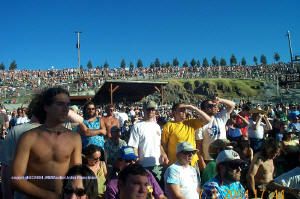 More crowd pictures, looking towards the FOH setup. The place was packed!!!
Allman Bros played 2 hours without a break, excellent warm up for the Dead. Now for a lil break The dead pics are on the following pages
The Gorge part 2 | The Gorge part 3 | Back to Deadspace |